Three Key Initiatives
Emma Fowler is Learning Coordinator (Primary Campus) at Nazareth Catholic College in Adelaide. Here, she explores strategies that have made a difference at her school.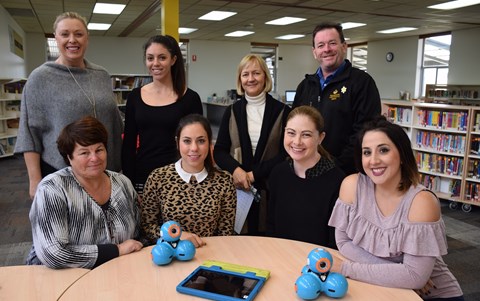 About this lesson
With more than 1800 students and 200 staff members spanning primary and secondary campuses, implementing new initiatives can be a challenge. With the vast array of skills and confidence when it comes to using ICT, let alone understanding and implementing the Digital Technologies curriculum, it was key to develop a process that would have maximum buy in from staff. Emma Fowler is a Learning Coordinator (Primary College) at Nazareth Catholic College in Adelaide.
Year band: 5-6, 3-4
Our Focus
Setting up a team
Initially, we called for an expression of interest from teachers who wanted to be part of the team leading the implementation of this new curriculum. This professional learning team comprised staff who were passionate, inquisitive and open to taking risks. By drawing on the skills and dispositions of enthusiastic staff members, we were able to design initiatives that would meet the broader needs of our educators at the college. We generated a team of like-minded individuals as opposed to using a top-down model of implementation; this ensured the initiatives were relevant, engaging and purposeful.
Getting started: Professional learning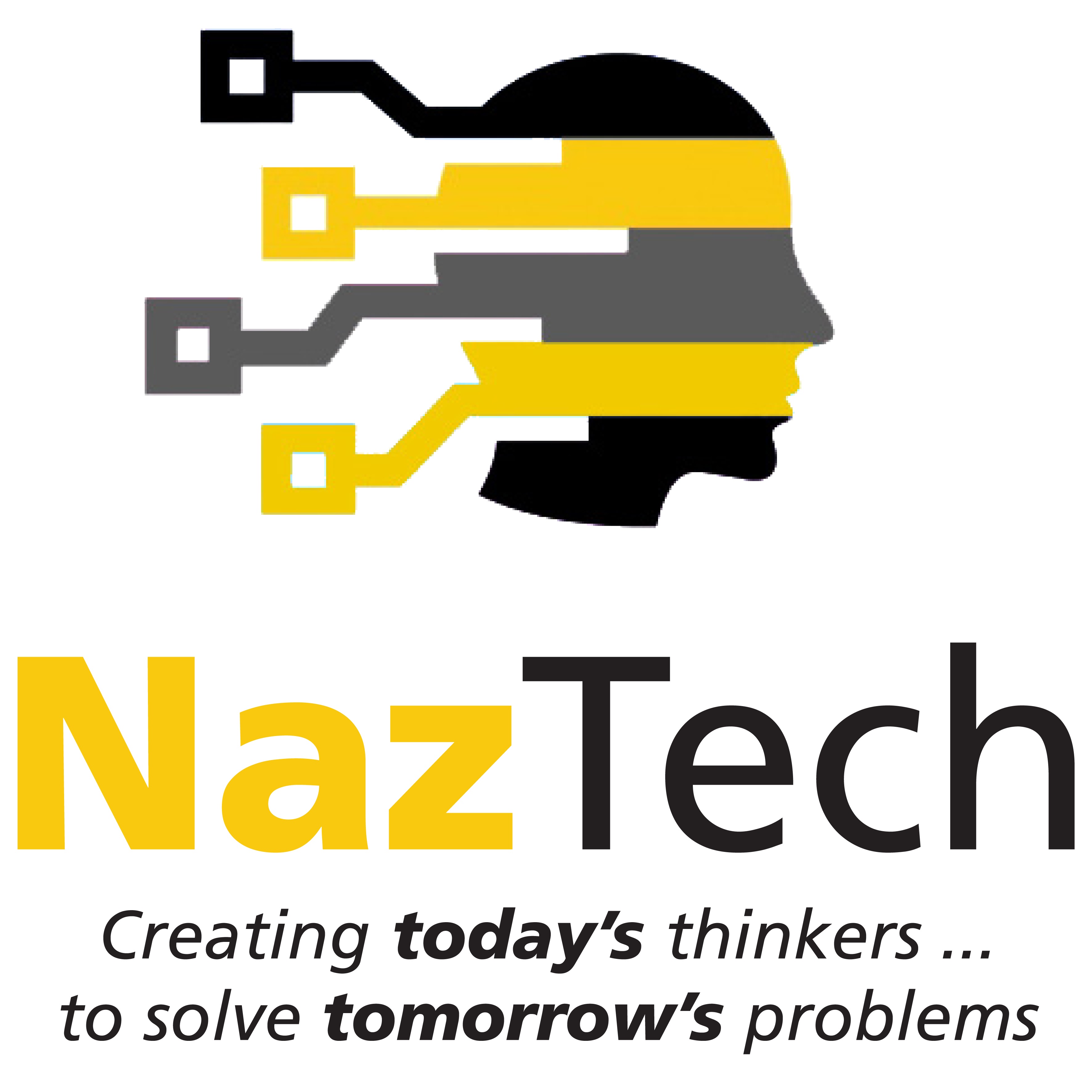 The first main project implemented by the Digital Technologies Team was NazTECH: a professional learning opportunity for all primary staff. This series of hands-on workshops focused on engaging staff in a range of activities. The workshops were designed to develop the skills necessary to teach the Digital Technologies curriculum.
Design of the workshops began with trialling in classes. Members of the Digital Technologies Team chose an area of interest to pilot in their class. They each trialled the activities and found the necessary tools, skills and knowledge to support their learning. This way they could discover the different pitfalls that other teachers might encounter when introducing the activities into their classrooms.
Five different workshops were offered at NazTECH:
flowcharts and algorithms
robotics
visual programming/Scratch.
Staff members were placed into small groups of six. They attended each of the workshops throughout the day and each session lasted 45 minutes. This model for professional learning allowed staff to have a real hands-on experience during each session. The sessions were personalised to each group's individual needs and questions. By presenting to small groups, staff were able to fail, ask more questions and use trial and error to understand the different technologies being presented. Smaller, intimate groups allowed this to be possible.
This style of learning has had a huge impact on teachers' confidence when delivering and planning the Digital Technologies curriculum. Prior to this session, staff were unwilling to even look at the curriculum as they had a limited understanding of the technical language in the Digital Technologies curriculum. By providing a hands-on experience and unpacking key terms throughout the curriculum, staff left enthused and eager to implement what they had seen back in the classroom.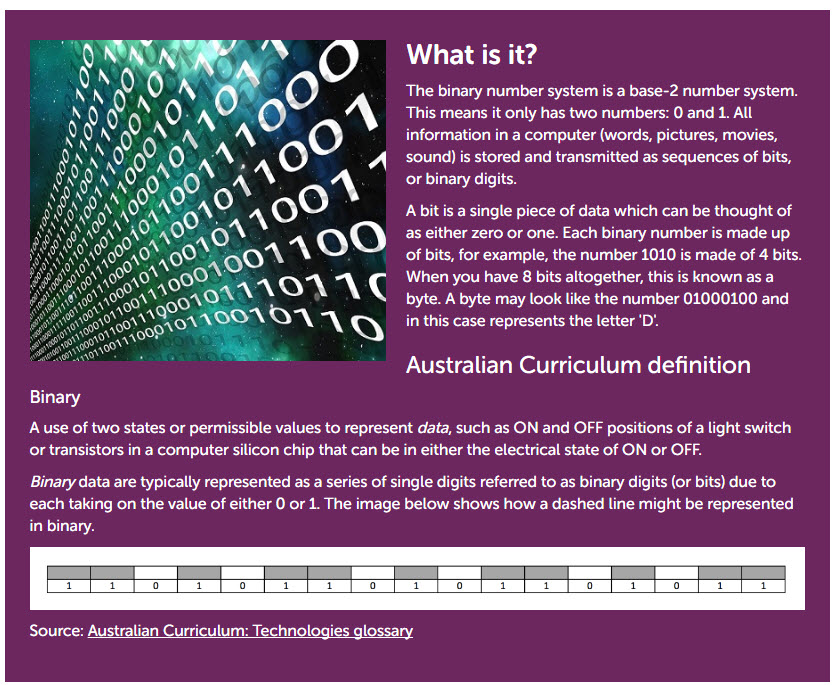 Find definitions of key terms and links to resources and lessons on the Topics page of this site.
STEM week
The other initiative we have implemented has been around awareness-raising within our community. We created and implemented STEM week, a whole week designed to showcase STEM! Our focus in 2017 has been on robotics, and children have had the opportunity to experience a range of futuristic hands-on activities. Our years 4–5 students used code to program robots to complete a series of everyday tasks. Our years 6–7 students used their brainwaves to turn lights off and on. Our Reception – Year 2 students experienced the power of drones. They watched rockets explode and marvelled as these incredible machines flew overhead. Our Year 3 students watched live robots battle each other in a custom-designed ring and then each student was able to battle with their own robot.
This initiative was shared through our social media feed, school website and college newsletter and was launched through a special assembly that parents were invited to. Our wider community was able to see, hear and learn about digital technologies through the experiences their children engaged with throughout the week. Children were able to experience digital technologies in a fun and hands-on way that made them excited about digital technologies. Teachers were also able to see this learning area in action.
Key Resources
For these initiatives to be successful, we had to provide the necessary resources, support and time to the members in our Digital Technologies Team. As a college we invested in Dash robots for members of the team to trial and experiment with. We also bought OSMO coding resources, codeable Mice and Makey Makey.
We provided a day release for the team to make any necessary resources required for the workshop. We made sure that Scratch Jr was available on our iPads and used CS Unplugged for our Unplugged activities.
Tips and Advice
Tip #1

To implement the Digital Technologies curriculum, seek out your early adopters, the people who are keen to be involved in the project. These people will stay true to the narrative when you are not around. They will be the key drivers of the initiatives.

Tip #2

Make sure you start with the 'why'. If you and your team are unsure what the authentic reason is for implementing the curriculum it will be more challenging to get staff on board. Staff will not care that it is mandatory to teach the subject. They care about the benefits for students and the impact it will have on their futures.

Tip #3

My final tip is not to be afraid to get started – it's okay to be a novice. There are many resources out there to support you on your journey. All you have to do is take the first step.
Nazareth Catholic College
Our school is a Foundation to 12 college located in the western suburbs of Adelaide. It is multicultural, with over 25 nationalities represented across our campuses. The Digital Technologies team consists of Emma Fowler, Jane Watson, Catherine Hamilton, Linda Low, Emily Parrella, Stephen Miller, Rozanna Elmassih, Natalie Horan, Olivia Abarno and Sophie Swain.