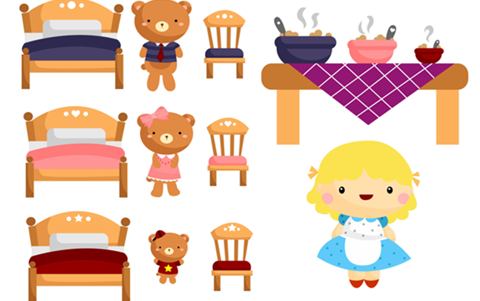 About this lesson
Use the slide sorter function to arrange a set of presentation slides in correct sequence to retell a fairytale.
Year band: F-2
Curriculum Links
Assessment
Close
Curriculum Links
Links with Digital Technologies Curriculum Area
Strand
Content Description
Processes and Production Skills

Follow, describe and represent a sequence of steps and decisions (algorithms) needed to solve simple problems (ACTDIP004)

Create and organise ideas and information using information systems independently and with others, and share these with known people in safe online environments (ACTDIP006)
Links with English Curriculum Area
Strand
Content Description
Interacting with others

Retell familiar literary texts through performance, use of illustrations and images (ACELT1580)

Construct texts using software including word processing programs (ACELY1654)

Discuss characters and events in a range of literary texts and share personal responses to these texts, making connections with students' own experiences (ACELT1582)

Discuss features of plot, character and setting in different types of literature and explore some features of characters in different texts (ACELT1584)
ICT Capability
Typically, by the end of Year 2, students:
Collaborate, share and exchange
Use purposefully selected ICT tools safely to share and exchange information with appropriate local audiences.
Select and use hardware and software
Identify and safely operate a selected range of appropriate devices, software, functions and commands when operating an ICT system and attempt to solve a problem before seeking help.
Close
Suggested steps
Students read or listen to a fairytale, eg Goldilocks and the Three Bears, and participate in a classroom discussion to consider plot development.
Support students to become familiar with the significant events within the fairytale, such as beginning (orientation), problem (complication) and solution (resolution).
Children work collaboratively to create a timeline of the significant events within the story, using pictures, words or simple sentences. Challenge students to decide which details within the story are not important, eg the colour of Goldilocks's dress; the type of porridge; the size of the bears; the colour of the chairs.
Depending on your learners, you could do one of the following:

Provide students with a series of slides (PowerPoint or Keynote) depicting both significant events and details of no significance within the fairytale. Slides may include pictures, words, simple sentences or a combination of these.
ask students to create their own set of slides to include the most significant events and discard unnecessary details.

Students choose which details/events are significant and use the slide-sorter function to arrange these events in order, to retell the story. Support the students to understand the importance of correctly sequencing the events and identifying the most important details.
Level One
Students open a PowerPoint file containing seven slides with the first slide stating that the rest of the slides are from Goldilocks and the Three Bears but are out of order. Each slide has a cartoon and a sentence of text related to a scene in the story. They need to click the "View" tab (Menu) at the top of the screen. The "View" ribbon menu displays and students need to click on the Slide Sorter button.

Fine Motor Skills:
This task could then be extended where the student cuts out each picture to later sequence (glue to a large piece of paper or tape to a wall/whiteboard). The student could further cut out each sentence and put each in their correct sequence as well.

Limited Mobility :
Alternatively, if the student is struggling and/or they are not able to manipulate mouse or keyboard controls, you could print out slides two thru seven (the story slides) and have students sequence the pieces of paper.

Visual Impairment:
For those who are blind or visually impaired, you could use figures, objects, and toys to create each scene.
Once students have chosen an order for the slides, they should then remove any slides that do not contain information essential to the plot. Coach them by explaining that they are to delete as many pictures/slides as they can while making sure the story still makes sense.

Partner Activity:
Have a partner look at your slides and read them to check whether the timeline and the plot still is logical and ordered.
Level Two
Provide Internet and a new PowerPoint file and have students choose an animated movie and copy/paste pictures into PowerPoint, one picture per slide. On Google Images, Students should click 'Tools', 'Usage Rights', and select 'Labeled for reuse' or 'Labeled for noncommerical reuse'.
You may want to write on the board some keywords to help them remember important parts of the movie like 'characters', 'plot', 'conflict', 'ending'. It is probably best to have the student add pictures in order from the start to the end of the movie to ensure they have not missed key plot points.

Partner Activity:
When the student has enough pictures to clearly explain the story, they should mix up the order of the slides. Then a partner should try to arrange the pictures back into their logical order. This partner can also provide feedback and make suggestions if there is missing or ambiguous information.
Level Three
To make this task more challenging, students could come up with their own short story. They should find or draw pictures that represent different parts of their story. They should also include short sentences of text to improve clarity. These pictures should be put in order using the Slide Sorter function in PowerPoint.

Partner Activity:
Another student should be able to tell the story from looking at the pictures and text. Then the student and partner can compare the intended story to how it was interpreted. Alternatively, instead of telling, one or more students write down what they think the story is about and they can present their idea to the class (and the original author).
Note: There may be some funny interpretations! --but this will help reinforce the theme of making sure that there are enough relevant details in a story so it makes sense.
Discussion
If we put the events in the wrong order, what happens? (The story would not make sense.)
Why do we leave out things that are not important ('irrelevant details') when we retell a story? (They distract us from the main story.)
What words can we find that are used to link events? (Examples: then, after, soon, later.)
Why is this relevant?
One of the key concepts within the Digital Technologies curriculum is Abstraction. Abstraction involves hiding details of an idea, problem or solution that are not relevant, to focus on a manageable number of aspects. Abstraction is a natural part of communication: people rarely communicate every detail, because many details are not relevant in a given context.
The idea of abstraction can be acquired from an early age. For example, when students are asked how to make toast for breakfast, they do not mention all of the steps explicitly if they assume that the listener is an intelligent implementer of the abstract instructions.
Central to managing the complexity of information systems is the ability to 'temporarily ignore' the internal details of the subcomponents of larger specifications, algorithms, systems or interactions. In digital systems, everything must be broken down into simple instructions.