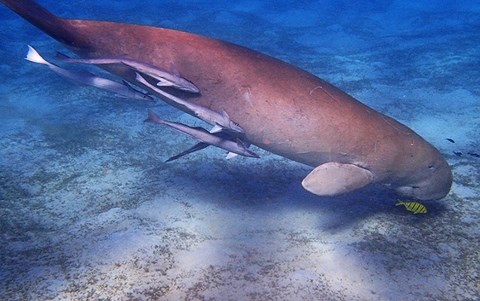 About this lesson
In this project students will learn how dugong sightings are conducted, and develop the data-science skills needed to make the sightings data useful for analysis.
Year band: 5-6, 7-8
Curriculum Links
Assessment
Close
Curriculum Links
Links with Digital Technologies Curriculum Area.
Year
Content Description
Year
Strand
5-6

Acquire, store and validate different types of data, and use a range of software to interpret and visualise data to create information (ACTDIP016)

7-8

Acquire data from a range of sources and evaluate authenticity, accuracy and timeliness (ACTDIP025)

Analyse and visualise data using a range of software to create information, and use structured data to model objects or events (ACTDIP026)
Links with Science Curriculum Area.
Year
Content Description
Year
Strand
5

Science as a Human Endeavour

Use and influence of science

Scientific knowledge is used to solve problems and inform personal and community decisions (ACSHE083)

investigating how Aboriginal and Torres Strait Islander Peoples' traditional ecological and zoological knowledge informs sustainable harvesting practices of certain species, such as dugongs and turtles (OI.2, OI.6)

For further information refer to Teacher background information

6

Science Understanding

Biological sciences

The growth and survival of living things are affected by physical conditions of their environment (ACSSU094)




Science as a Human Endeavour

Nature and development of science

Science involves testing predictions by gathering data and using evidence to develop explanations of events and phenomena and reflects historical and cultural contributions (ACSHE098)

Use and influence of science

Scientific knowledge is used to solve problems and inform personal and community decisions (ACSHE100)




Science Inquiry Skills

Processing and analysing data and information

Construct and use a range of representations, including tables and graphs, to represent and describe observations, patterns or relationships in data using digital technologies as appropriate (ACSIS107)

7

Science Understanding

Biological sciences

Interactions between organisms, including the effects of human activities can be represented by food chains and food web (ACSSU112)




Science as a Human Endeavour

Nature and development of science

Science knowledge can develop through collaboration across the disciplines of science and the contributions of people from a range of cultures (ACSHE223)




Science Inquiry Skills

Processing and analysing data and information

Construct and use a range of representations, including graphs, keys and models to represent and analyse patterns or relationships in data using digital technologies as appropriate (ACSIS129)
Close
Close
Assessment
Provide ongoing formative assessment at various stages of the inquiry. Ask students how they found out answers to particular questions. Have them demonstrate the usefulness of spreadsheet sorting and filtering functions, and of the other forms of analysis used.
Ask students to reflect on their data skills and what they have learned. What new skills do they now have? Complete a checklist. Use the 'SAM' model to complete a checklist of students' data skills.
Download: Self-assessment: My data and information skills (Word/ PDF)
Close
Learning hook
Dugongs are marine mammals sometimes known as sea cows. Like cows they graze on grass – in this case seagrass! But unlike cows they are considered threatened globally, mainly due to loss of habitat, as well as to entanglement in debris from human activities such as fishing, and shark nets put in place to protect swimmers. Seagrass meadows are destroyed by industrial development such as gas mining, as well as by runoff from agriculture and other land-based environmental degradation.
A single dugong can eat up to 40 kg of seagrass in a day.
The Western Australian Marine Science Institution has been collecting data about dugongs off the coast of the Kimberley in Northern WA. We have been provided with the raw data from its sightings trips. In this project students will learn how dugong sightings are conducted, and develop the data-science skills needed to make the sightings data useful for analysis.
The cultural practices of Aboriginal and Torres Strait Islander peoples have sustainably managed the coastal waters of Australia for thousands of years. Traditional ecological knowledge considers the impact of community practices on the environment to ensure that the organism populations within the ecosystems are not detrimentally affected. CSIRO scientists are working with Traditional Owners to conserve dugong populations.
This lesson was devised by Linda McIver, Australian Data Science Education Institute.
Equipment and other requirements
Learning intentions
Develop data cleaning, analysis, and visualisation skills.
Describe the threats to dugongs and their habitats.
Describe the cultural significance of this species.
Suggested steps
Step 1: Research dugongs
Research dugongs, their habitat, lifecycle and in what ways they are a culturally important key species.
How has Aboriginal and Torres Strait Islander peoples' ecological and zoological knowledge informed practices to ensure a sustainable population of the dugong?
What are the main threats to dugongs?
What are the main threats to their seagrass habitat?
Why are dugongs listed as vulnerable?
How far can they travel?
Step 2: How scientific surveys are conducted
Use a real-life example to illustrate some processes of conducting scientific surveys.
Explain that scientists need to collect data about the dugong to manage its habitat and understand its numbers and movements.
Provide students with background information describing how scientific aerial surveys are conducted from a plane.
Ask students to think about the survey approach and list three stages at which errors might occur, from the start of a flight through to analysis of the data.
How accurate do you think this survey is at identifying the number of dugongs in an area? Give three reasons why the surveyors might miss some dugongs.
Raise the point that from this aerial survey the scientists want to know many dugongs are in the area. The data they can actually collect is how many dugongs they can see. It is not quite the same. This is called 'proxy data' because it's a proxy (substitute) for the data we actually want. Given that scientists know this data is inaccurate, why do they continue to collect it?
Provide students with the career profile poster of Marlee Hutton, a scientist leading the aerial survey team. Use the poster to inspire students to consider a STEM career by highlighting the scientist's background and interests, a snapshot of their current role and the pathways they have taken to enter their profession. Marlee Hutton is an indigenous research scientist working for CSIRO. Career profile: Marlee Hutton, CSIRO research scientist
Background information
Background information: conducting scientific surveys
Dugong numbers are difficult to track, so sometimes aerial surveys are run to see how many dugongs can be spotted in an area. These surveys are done from a small plane with four observers, two on each side of the plane. For each trip there is also an environmental observer who records changes in cloud coverage (which affects glare and what you can see), as well as changes in water surface, such the number of waves and whitecaps there are, as these also affect the ability to see.
Each observer has a headset and their voices are recorded, so that they don't have to look away from the windows to write anything down. A GPS recording is also synced with the voice recorder, so that each time a sighting is made the GPS coordinates are known.
For each sighting, the observers note four points – what type of animal (for example dolphin, turtle, dugong), how many, are they on or below the surface (below makes them harder to spot and identify), and a measure of the turbidity of the water from 1 to 4:
you can see the bottom and it's completely clear
you can see the bottom but the water is a little bit murky
you can't see the bottom but the water is clear
the water is extremely murky.
Survey flights are typically four hours long. When the survey is complete the data from the audio recordings is entered into a database.
Step 3: Data analysis
Students explore data and become familiar with its display.
Provide students with a copy of the Dugong Sightings Data spreadsheet. This contains the data from survey flights in September and October 2015.
Make a duplicate of the original sheet. Label the original and the duplicate so you know which one to work in. You might like to call them 'original' and 'working copy', or similar.
Additional information
Ensure students make a copy of the original data sheet and work on a copy. This avoids losing data on the off-chance the data is accidentally changed or lost during analysis. Systems like Google Drive that keep version histories make this a little less important, but things can still go wrong!
What do the columns mean?
Ask students to look through the column headers of the data. Ask: Which ones do you understand the meaning of, and which do you need more information on before you can understand? Have students make a glossary of the headers, leaving the ones they don't understand blank.
Using the dugong data glossary provided, now go through the glossary as a class and have students fill in the headers they don't understand. Students will also need to check the headers they think they do understand, to make sure they haven't made false assumptions!
How many rows of data?
Scroll down the length of the data to get a feel for how far it goes. Note the dates of the trips, how many observations there seem to be per trip, and which columns have data for every entry, which ones only have data for some, and whether there are any columns that aren't used at all.
How reliable is the data?
Scroll across the data until you find the column labelled 'reliability'. This is where observations are labelled when observers think their sightings might not be wholly reliable.
When there is no label observers are confident about what they saw.
'Probable' is taken as a genuine sighting, and 'guess' is not used.
How can you find out how many dugong sightings were labelled 'guess' so that you can figure out what difference this makes to the overall data?
Ask students to come up with at least three different ways to figure this out, using functions or simply features of the spreadsheet.
Sort and filter the data
Raise questions for inquiry. These may include:
What animal types were sighted and how many?
Which animal type is most frequently sighted?
Are there more sightings on a day of less turbidity (water is less murky/clearer)?
Sort and filter the data to answer questions of interest.
Encourage students to use evidence towards any claims made about dugongs. Ask students how they found out answers to particular questions. Use these opportunities for formative assessment.
Additional information
Hints
It's easier if you freeze the top row so that you can always see the headers, regardless of how far down you scroll. You could also experiment with different widths for the columns, to maximise the data you can get on screen.
Use Ctrl/ Cmd and arrow down to go to the last cell of the spreadsheet and Ctrl/ Cmd and arrow up to go back to the first cell. This saves scrolling through row after row of data.
Advanced exercise
Optional advanced exercise: Write a Python program that will find the sightings of dugongs in the csv file (spreadsheet). Then transfer the ones not labelled 'guess' to a new file, so that the new file will contain all of the data from each row listing dugong sightings – except for the guesses. Calculate how many of each type of animal were sighted on each day.
Step 4: Visualising data
If computers are scarce or connectivity is limited, use the following task.
Plot the following data on a printout of the worksheet Northern Australia map developed by seaturtle.org.
| ID33 | Date | data_type | *latitude | *longitude |
| --- | --- | --- | --- | --- |
| 27 | 21-Sep-15 | Dugong | -13.9 | 126.6 |
| 57 | 24-Sep-15 | Dugong | -13.8 | 127.1 |
| 276 | 25-Sep-15 | Dugong | -14.1 | 126.3 |
| 492 | 28-Sep-15 | Dugong | -15.4 | 125.0 |
| 561 | 04-Oct-15 | Dugong | -16.6 | 123.0 |
| 493 | 04-Oct-15 | Dugong | -16.8 | 123.7 |
| 549 | 07-Oct-15 | Dugong | -14.3 | 127.8 |
| 550 | 07-Oct-15 | Dugong | -14.5 | 127.9 |
| 551 | 07-Oct-15 | Dugong | -13.9 | 127.6 |
| 553 | 07-Oct-15 | Dugong | -14.6 | 128.2 |
*Note latitude and longitude reduced to one decimal place for the purpose of this activity.
For students with computer access and connectivity
Have your students visualise data using online mapping software. Two options include Google My Maps and NationalMap.
Using Google My Map
Go to Google My Map and create a new map by selecting the plus sign in the bottom right corner.
On the menu on the left, under Untitled Layer, select import and import the csv file. Select the latitude and longitude columns and identify them as latitude and longitude when prompted, and select data_type for the placemarks.
Importing the file is quite large and may take several minutes, but you should eventually get a map with labels on it for the different sightings.
All of the labels are initially the same colour. To separate out the different species, select Uniform style, group places by data_type, and wait for the map to reload the data. (Again, this is likely to be slow.)
Note the distribution and density of the sightings. Look for any patterns.
Make separate maps for each observation flight (there is one flight per date).
Separate the data into one sheet for each type of animal observed and make a new map containing only dugong sightings.
Using NationalMap
Plot the same data in NationalMap, compare the representation to that in Google My Maps.
Go to NationalMap and select Add Data, from the left menu.
Select My Data, then Add Local Data, and upload your spreadsheet.
Select Add to the Map. The image that appears will be centred on the Indian Ocean. Drag it around until you can see Australia, and use the tools to navigate and zoom until you can zero in on the red dots indicating sightings on the northern coast of Western Australia.
There don't appear to be as many sightings as on the Google My Maps version. Why do you think that is.
Zoom out until you can see about half of Western Australia on the map, and then press the fast-forward button at the bottom of the window.
Notice how the blue indicator moves across the date line, and how the dots move from day to day. You can see that different observation trips on different days covered different locations.
Showing the data day by day like this gives you different information to that of Google My Maps, where you can see it all at once. What kinds of questions might be easier to answer with Google My Maps, and what kinds with NationalMap?
Note NationalMaps has the option to overlay other mapping data. Select the Add data and browse the folders. For example, in Environment select Commonwealth Marine Reserves. This shows protected areas in proximity to dugong survey data.
Spatial data
This spreadsheet contains spatial data. Spatial data is geographic information about the Earth and its features. A set of latitude (lat) and longitude (lon) coordinates pinpoints a specific location on Earth. The sightings of animal types are identified at particular lat and lon coordinates.
Data visualisation
Data visualisation is the visual representation of information and data. In this example we are using mapping software to visually represent the location of marine animals sighted during an aerial study. Colour can be a useful way to distinguish between different animal types plotted on the online map, but using patterns such as dots or hatching, either instead of colour or added to it, makes the representation more accessible.
Step 5: Optional: Data analysis using Python
Write a Python program to take the cleaned file (the one you produced without the guesses), and calculate the number of turtles, dolphins, and dugongs sighted over the entire dataset.
Make a text graph using an 'x' for each animal, to show its relative number. For example, if there were 10 turtles, 3 dolphins, and 1 dugong, your Xs would look like this:
Turtles xxxxxxxxxx
Dolphins xxx
Dugongs x
Modify your program so that the Xs all start at the same position on the line, to make comparisons easier, for example:
| | |
| --- | --- |
| Turtles |   xxxxxxxxxx |
| Dolphins |   xxx |
| Dugongs |   x |
If there are too many Xs for one animal to fit on one line, adapt your program so that each X represents 10 animals (or part thereof). So you have one X for 1–10, two for 11–20, 3 for 21–30, and so on.
Students may use an integrated development environment (IDE) such as repl instead of downloading Python software.
Explore this example program created in Python using the repl IDE. The program imports two libraries and links a csv and answers the question: How many of each animal type were spotted?
Step 6: Present your information (infographic)
Discuss and explore ways to present information as an infographic.
Ask students to find three online examples of infographics or visualisations that present information effectively. Discuss any limitations and cases where they found it a challenge to understand the information.
Canva and pictochart are useful examples of tools you can use to easily create information and present it as an infographic.
Make an infographic of the number of dugongs sighted.
Include information about dugongs, including copyright-free images.
Include visualisations from mapping software.
Include data about other species that share the dugong habitat.
Establish what areas should be protected according to the survey.
Work out the steps needed to conserve dugong numbers.
Royalty free images
Make sure the images students choose are licensed for reuse, by selecting 'Advanced Search' from the settings menu in the search and choosing 'free to use, share, or modify' from the Licensing drop-down menu.
What is an infographic?
An infographic is a display that contains both text and visual representations of data. The visual representations, also known as visualisations, might be as simple as a line or bar chart, or as complex as the data journalism you can see in this ABC news piece about the census.
Resources
Dataset
Online information
Career related information
Online mapping software
Video tutorials