Implementing STEM using drones in a state high school
Trinity Bay State High School is an independent public school for students in years 7 to 12. The school offers Excellence programs in Science and the Arts for years 7 to 10 and has a strong STEM focus (or STEAM, to include the Arts). Collaboration between heads of department in Science, Technology and Mathematics, and with teachers of those subjects, started our drone journey at Trinity Bay.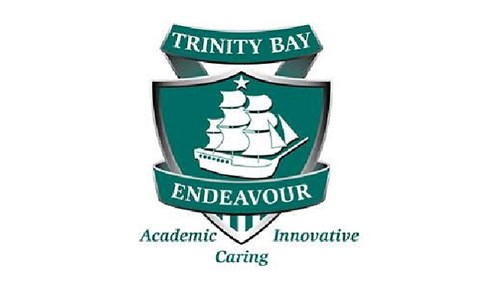 About this lesson
Trinity Bay State High School, located in Cairns, is an independent public school for students in years 7 to 12. The school offers Excellence programs in Science and the Arts for years 7 to 10 and has a strong STEM focus (or STEAM, to include the Arts). Marine science, Earth and Environmental Science, and Digital Solutions are all offered in years 11 and 12. Collaboration between heads of department and teachers in Science, Technology and Mathematics started our drone journey at Trinity Bay.
Year band: 7-8, 9-10
First project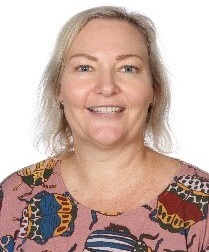 This case study was written by Kelly Soenario, Science and Mathematics teacher at Trinity Bay State High School. Kelly is currently the principal STEM advisor for the Department of Education's Far North Queensland Regional Office.
The key initiative that really got the use of drones off the ground was the Drone Coding and Racing Project for students in years 7 to 10. This was a whole-day event involving students in our Excellence programs. The Mathematics team was a group of boys led by the Mathematics Head of Department (HOD). The all-girl team was led by the Technology HOD, and a mixed team was led by the Science HOD and myself (a keen drone pilot). Teams trained once a week before school for almost two terms. Once training was complete, the students had a full day of challenges to test their skills in manual flight, coding, teamwork, and problem solving. Prizes (Parrot Mambo micro-drones) were donated and presented by a local engineering company.
How did we get started?
Teachers and HODs in Science, Mathematics, and Technology completed an 'In School Drone Day' with SheMaps. This course taught us how to fly drones manually, using small steps such as flying the drone in a box and returning to the starting point. We then learnt to code the drone to take photos of a satellite image in a problem-solving exercise. We used the Parrot Mambo micro-drones, Lenovo tablets and resources provided by SheMaps. At the start of this course, I was not confident at all, but by the end I could fly a drone and I was hooked!!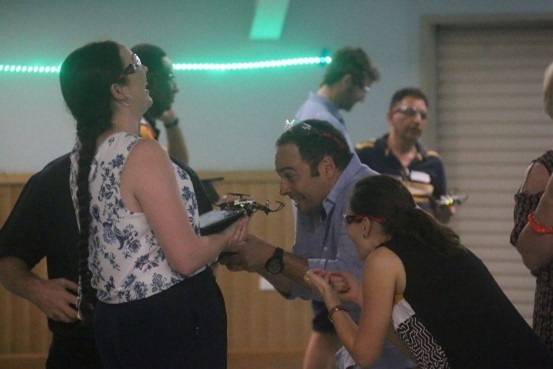 With classes of 28 students, the school purchased a set of 14 Parrot Mambos micro-drones. We then installed the Free Flight Mini app for flying, and Tynker app for coding onto iPads which the school already had purchased. We chose the Parrot Mambos because this was what we were familiar with, they were affordable and they belonged to the class of drones that can be flown indoors. They also come with a downward facing camera and have a cannon and grabber tool, which allows for a whole range of activities to be delivered across different learning areas. A similar alternative is the DJI Tello. For more information, refer to the SheMaps article: The ultimate guide to buying a drone for your school.
In a large Science department like ours, the school is able to employ science technical assistants. They organised a drawer trolley to store each drone with its controller, batteries and spare parts in its own place while still being transportable. Having someone in charge of the drones and batteries has really helped with the logistics, and ensured the longevity of an expensive set of resources. A smaller school might look at fewer drones and have students work in teams of three: pilot, co-pilot, and reporter/videographer).
Drones and the implementation of STEM and STEAM
Since the Drone Coding and Racing Project we have been using the drones mainly in the Science and Technology learning areas, but they can also be used in other learning areas. Some examples of how we've used the drones include the following:
Coding the drones to fly through an obstacle course, manually and/or coded. We used pool noodles on retort stands to form an arch or a pole (hula hoops and would also work). Anything you can go over, under, through and around, 3 to 5 obstacles is a good starting point. This can test skills in coding and mathematics as students work out how far the drone flies in certain time. Timed free flights and/or points for each obstacle during a coded challenge can make it more engaging.
Coding drones to fly over a satellite image mat of a local area. We purchased the maps through SheMaps, which took about two weeks from choosing the image to delivery of the mats. Students code the drone to take a series of pictures then download the photos onto the iPad. This becomes a great problem-solving exercise as students have to adjust their code to get clear images of the desired location. It may involve changing altitude, speed, distance, or the number of photos taken. Lessons using the satellite image mat and drones can be aligned to the curriculum in Geography, Science, Mathematics, Digital Technology, Marine Science and Earth and Environmental Science. These lessons can be used to teach students how drone technology allows us to access and survey locations that are either too dangerous or too expensive to get to using traditional methods such as planes, boats or by foot.
Problem-Solving and Design lessons using the grabber tool. You could investigate if a drone could be designed to: rescue injured wildlife after bushfires (using mini souvenir koalas); put out bushfires by dropping fire suppressants; drop off care packages after floods/fires/cyclones; or for plant pollination, weed eradication, and revegetation.
Using the cannon tool to fire small plastic pellets into targets and exploring ideas on how this technology could be used in art, agriculture and environmental management, or as a game to earn points.
Coding the drones to do a sequence of movements choreographed to music.
An example lesson sequence
(Adapt to suit context, such as learning areas, class size and physical resources).
Lesson 1: Safety, rules and regulations and first flight
You will need to think about the size of your class and the space available to allow for an indoor drone lesson. A fully enclosed sports hall is ideal, a classroom would only work with a very small group of students. I have used a double classroom with a small class of 12 students. Six groups of two students lined up in the middle, with three of the groups flying into one classroom and three into the other. This involved moving ALL the desks to provide a free open space.
You will need safety glasses for every student and hair must be tied back. Once students know the rules, and have completed safety checks, they can learn to fly the drone in a simple box pattern to land back on the landing pad. Changing altitude (no higher than shoulder height) and rotating horizontally to complete the same box would complete the lesson. Awarding points for landing all four rotors on the mat tends to keep students engaged and flying safely.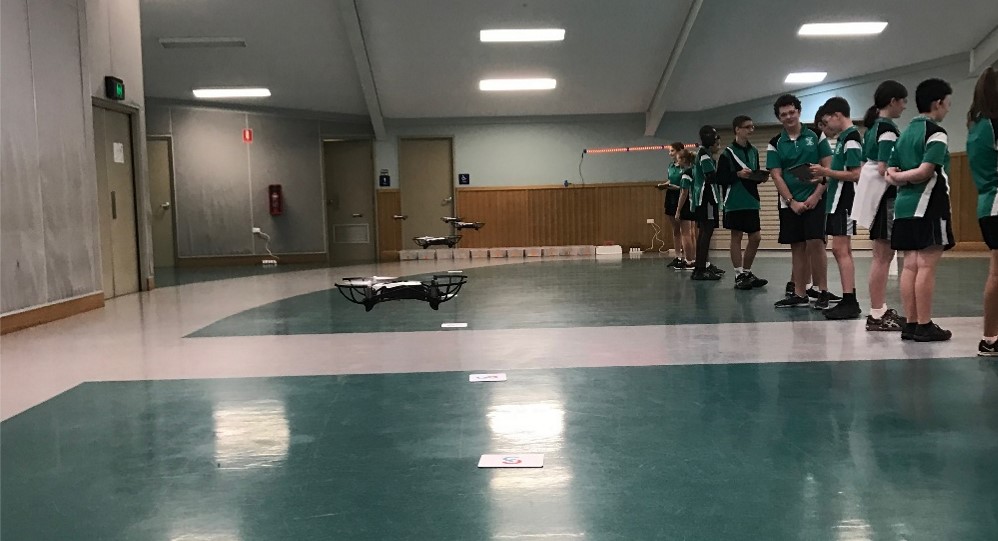 Image credit: Trinity Bay State High School
Lesson 2: Coding a mission
Using a satellite image mat purchased through SheMaps, students can use Tynker and block coding to program the drone to capture images of a point of interest on the satellite map. As our school is located near the Great Barrier Reef we give them a scenario related to the local area and set a challenge to collect information (data) using the drone. This could include collecting data on mangrove distribution, assessing cyclone damage, counting the rubbish items in a river system (small items we place on the mat to represent rubbish).
This is a great problem-solving exercise as students will need to adjust their code if they don't get the required information. This activity requires less space than free flight but will need an area away from the mat for the groups to sit and write their code, or download and analyse their pictures for the required information on the tablet. They will be moving back and forth to test and retest their code, so giving clear safety instructions is essential. Planning their sequence on paper can also be included.
Lesson 3: Collecting and analysing the data
Allowing for time lost due to technical issues is important. Students can get frustrated if: their drone won't connect to the tablet, it isn't flying, there are no spare batteries, their pictures won't download … all these things require patience and need to be planned for. It happens to all of us, in the classroom and in the field, and it's important to make this clear to students. These issues can often be easily solved (spare drones, joining other groups, reconnecting) but do need to be planned for.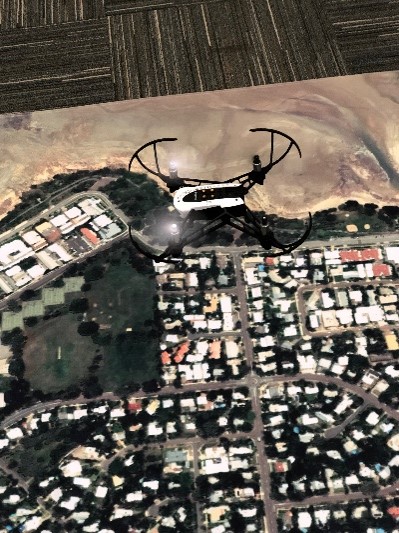 Image credit: Trinity Bay State High School
Analysing the data can take time. Students need to be able to view the photos on their tablet and respond to the given challenge. You might be continuing the previous lesson or extending it. It may be that in this second lesson, the image mat is hidden from students using a barrier that the drone can fly over (desks tipped on their sides). Students are tasked to bring back information (data) to analyse and answer a question, such as: How long is the whale (a cut-out or printed image you've placed on the ocean part of the satellite image mat) given you know the dimensions of a nearby boat (image placed onto mat)? SheMaps have used this challenge on their drone days.
Lesson 4: Drones in real life
The previous lessons relate to work that senior students at our school do in Marine Science. They use larger drones outdoors on an island to collect mangrove data with automated missions and fly manually to search for sharks and sting rays in the bay during low tide. Use this lesson to come up with ways your drone missions could be extended to outdoors and used by scientists, search and rescue missions, and so on.
Discuss the safety implications for flying drones outdoors. What other factors need to be considered when flying outdoors? (drone size, camera type and positon, tablet size, reflection of water, glare on screens, safe take-off and landing position, distance and battery life, wind, helicopters, planes, people, buildings)
Essential considerations
Teacher training and PD prior to students learning.
Which drones are best for your school? This will depend on what you want your students to do with the drone.
Other equipment: for safe storage and transport of drones, batteries and other resources (for example, obstacles, mats, tablets)
Who will be responsible for the maintenance and storage of the drones and batteries and how will they gain the knowledge if they don't already know?
Where you will fly the drones?
Keeping up to date with drone safety regulations (CASA) and making use of the SheMaps Online PD and Resources have been essential to our success.
Further PD we completed included teachers getting their Remote pilot licence (RePL) through a teacher program with World of Drones Education, geospatial mapping courses (SheMaps) and the purchase of larger drones for use in senior subjects.